Theatre GoFundMe Drive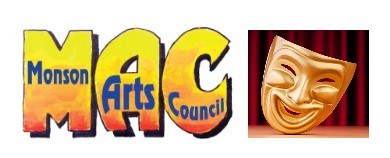 Building Community…
Monson Arts Council Community Theatre
Indeed, no one can ignore the horrific times of the last couple of years, even now on the world stage.

In hopes of bringing us together in a stronger, happier, community environment, the Monson Arts Council (MAC) is resuming community theatre here in Monson. We hope to build a better, more sustainable, long-term theatre program. Our mission is to provide inclusive and enriching experiences to the community through quality live theatre!

Since 1979 the Monson Arts Council (MAC) has been an active group of volunteers. Our goal has been to share first-class art experiences with the local community. We do this to build our community and make Monson a better place to live, work, and bring up a family.

Please help us raise the seed money to produce our first performance in many years. With your help, we can bring community theatre back to Monson.