AUDITIONS: Steel Magnolias
AUDITION LOCATION MOVED TO MEMORIAL HALL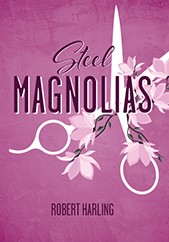 STEEL MAGNOLIAS
By Robert Harling
Auditions will be held on
Sunday & Monday, August 28 & 29, 2022, 7-9 pm
Callbacks will be on Wednesday, August 31, 2022
AUDITION PROCESS
Please fill out an Audition Sheet if you have not brought one with you. Feel free to attach resumes, but they are not necessary.
Return the Audition Sheet to one of the staff and have a seat in the waiting room.
At the beginning of the process the Production Staff will address auditioners as a group. You will then be asked to wait until your number or name is called.
Once called, please go to the room where you are directed.
You will have the opportunity to do a reading from the script and may be assisted with actors who are there just to read with you.
Once you have completed this stage of the audition, you do NOT have to stay. We will see every one once. If for some reason you would like to be seen a second time, you can wait until the end and we'll be happy to see you again. It is not necessary to come to both auditions (Sunday and Monday).
CALL BACKS
Call Backs will be Wednesday, August 31, 2022.
An e-mail will be sent late night on Monday, August 29. Just because you do not get called back for a role, does not mean that you are not going to get a role. Call Backs are for refining our decisions. You may be just what we need and won't need to come to a call back.
We will cast the show by Sunday, September 4 and post the cast list on the website (http://monsonartscouncil.org). As much as we would like to cast everyone, we are limited due to cast size and stage space. The first rehearsal will be at 1:00 PM on Sunday, September 11, 2022.
CHARACTER DESCRITIONS
TRUVY JONES
40ish. Owner of the beauty shop. A bit of a busy-body. Easy going and caring
ANNELLE DUPUY-DESOTO
19. Beauty shop assistant. Begins as shy and avoiding her current issues in Act I to a bit more assertive Born-Again Christian.
CLAIREE BELCHER
66ish. Widow of former mayor. Grande dame. Wise guy. Always poking fun, but never cruel.
SHELBY EATENTON-LATCHERIE
25. Prettiest girl in town. Self-conscious about her diabetes and physical condition. Slightly contentious when it comes to her mother.
M'LYNN EATENTON
50ish. Shelby's mother. Socially prominent career woman. Probably the most serious of the women, but not a kill joy. Very concerned for her daughter, but not overbearing nor strongly combative.
OUISER (pronounced "Weezer") BOUDREAUX
66ish. Wealthy curmudgeon. Acerbic, but loveable. Like re-heated week old bread… crusty on the outside, but warm and soft on the inside.
AUTHOR'S NOTE:
The women in this play are witty, intelligent, and above all, real characters. They in no way, shape or form are meant to be portrayed as cartoons or caricatures.
If you have any questions please email macdrama@monsonartscouncil.org.