Ordinary and Extraordinary
Posted in:
The Varieties of English Naturalism
When we think of the naturalistic tradition in English landscape painting at the beginning of the 19th century we immediately think of the work of John Constable. Constable's work, done almost entirely in the Dedham valley of his youth, with excursions to nearby Salisbury and Brighton, is a celebration of the ordinary. "The Hay Wain" is a fine example of a work done in his familiar neighborhood, near his father's mill at Flatford. With its marvelous sensitivity to the nuances of everything familiar, known and loved, he raises to the level of high art that which we see every day and normally find unremarkable. But we are less likely to connect his great contemporary Turner to the naturalistic tradition. His work is so far from our day-to-day experience of nature, and so exciting in its foretelling of later abstract art, that we can easily ignore its essential naturalistic roots.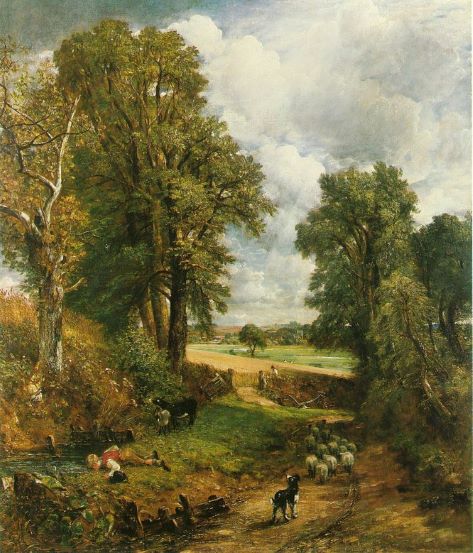 For me, what the contrast of Constable and Turner establishes dramatically is that nature has not one single face or mood. The endless delight of going to the natural world for inspiration is that it contains everything which we could ever wish to seek for in it. In another essay I described how nature confirms equally the preconceptions of the classicist and the romanticist. It also amply fulfills the needs of those who love the familiar and those who love the magical and extraordinary. There is good evidence that both Constable and Turner found what they needed for their art in Nature, with no need to invent.
With Constable, we are never in a moment's doubt as to his inspiration; we cannot explain his work except through his deep familiarity with his surroundings. Of course, a work like "The Cornfield" is composed. It is a presentation piece, a "finished work", and shows an understanding of established compositional devices, like side screens, and the passage through shadow into light. It would be for a later generation to present unaltered sketches as finished works. But when we place the Constable beside formula landscapes of the previous century, its vitality and truth are obvious. We feel the heat of the day, the coolness of the shade, smell all the fragrance of meadow in Summer.
I have not chosen one of Turner's large presentation works for comparison. This is because I feel the need to prove his naturalistic roots, and that proof is harder to see in a work like "Slave Ship", or "Rockets and Blue Lights". "Norham Castle at Sunrise" is one of Turner's watercolors, and grows out of the marvelous English watercolor tradition of the turn of the century. Yet our first impression is that it is a free play of color, unrestricted by the limitations of ordinary perception. Only gradually, as we look into its mists, do we see its own truth to nature.
Just as forms will gradually emerge from mist on certain magical mornings, so forms emerge in the Turner. At first we are intrigued by the darker object in the foreground, but on examination we can make it out as a deer drinking in the stream. This creates the stream for us, which in turn creates the bluff overlooking it, and ultimately the castle itself. The scene, once it reveals itself to us, is found to have a truth and perceptiveness equal to that of the Constable work, but devoted to entirely different face of Nature: the extraordinary and transcendental.
---
---