2. Van Gogh
Posted in: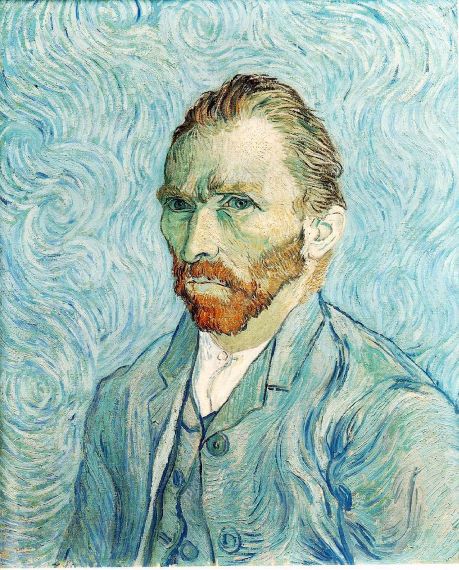 In my first "Favorite Artists" blog post on Cezanne I touched on Van Gogh, making a comparison between self-portraits by the two artists.  Since Van Gogh is also a big favorite of mine, it seems to make sense to turn to him next.  He also finds the impressionism of Monet lacking, but unlike Cezanne who wanted a return to solid form, Van Gogh wishes to rediscover an expressive element.  Painting was for him a communication between artist and viewer, an attempt to bridge the chasm of isolation which his mental state created. For him, the urgent need to reach out to other human beings was so great that the neutral task of perceiving light a la Monet would never be enough. Thus expressionism was born as radical reversal of the optical purity of Impressionism. I will deal in my next post with Monet, who set the stage for both these post-impressionist artists.
Though most of us know Van Gogh's work primarily beginning with his arrival in Paris, at least a word should be said about his art in Holland, before the stunning revelation of Paris and the impressionist palette.  His early masterpiece is undoubtedly "The Potato Eaters; in fact, it is his first large scale work. Though It shows a complete ignorance of the intense colors which will later be his trademark,  he nevertheless aimed to use his palette expressively. He described the work to his brother, saying that the people were the color of the potatoes they grew and ate, also the color of the soil.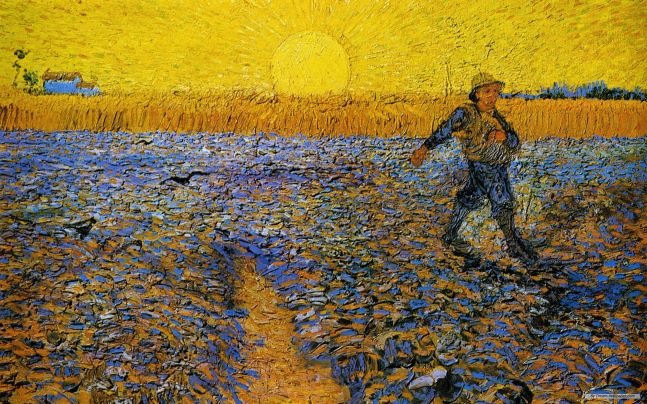 "The Sower" is an example of the complete transformation of his palette on arriving in Paris and joining the left bank scene.  Van Gogh drank in the heady cocktail of influences like a man dying of thirst. For a brief moment he was slavishly imitative, but before long his compulsive need for expression took him far beyond those influences.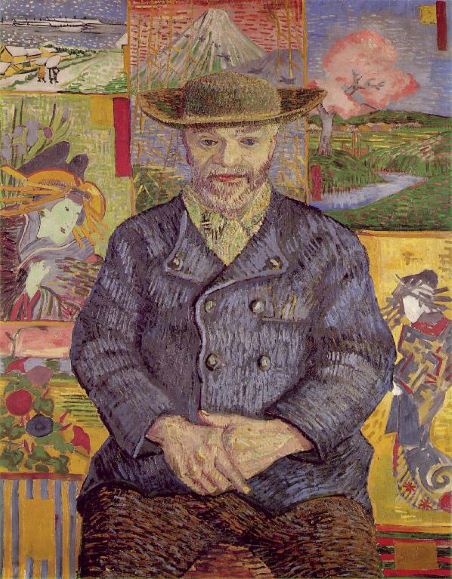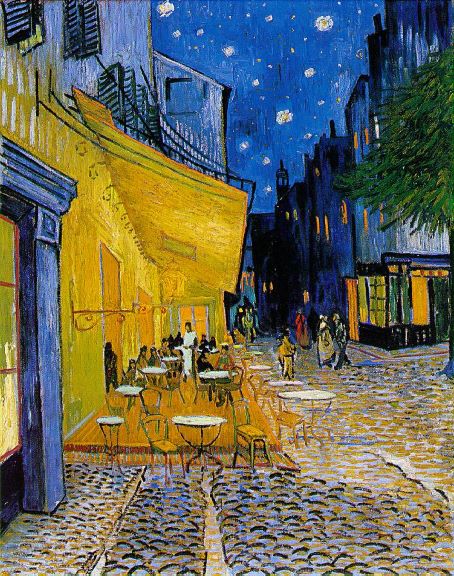 Van Gogh worked at a white heat while in Paris.  I am showing two of hundreds of works produced during this period, the portrait of Pere Tanguy, an art dealer who befriended Vincent during this time, and "Café Terrace".  The portrait shows Tanguy in front of a display of Japanese prints, prints which are rendered more faithfully than the sitter.  Japanese prints were a revelation to the artists of the Left Bank, showing a freedom of design and of color which was totally new to them.  When we look at "Café Terrace" we can see the effect they had on Van Gogh, intensifying his color in broad area, colors which began to carry an independent emotional load. It is a peaceful scene, as still as a late night street can be, but it is the power of the yellow and blue which dominate the viewer's reaction.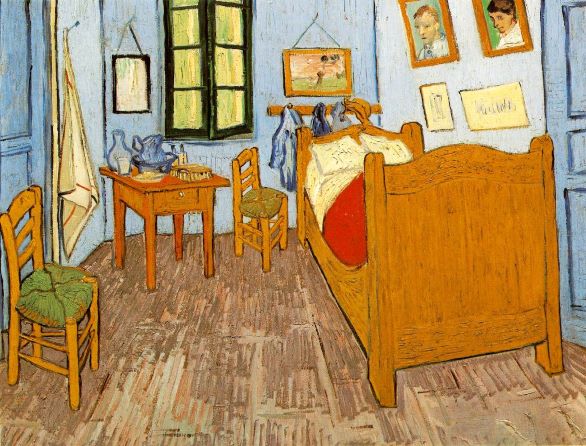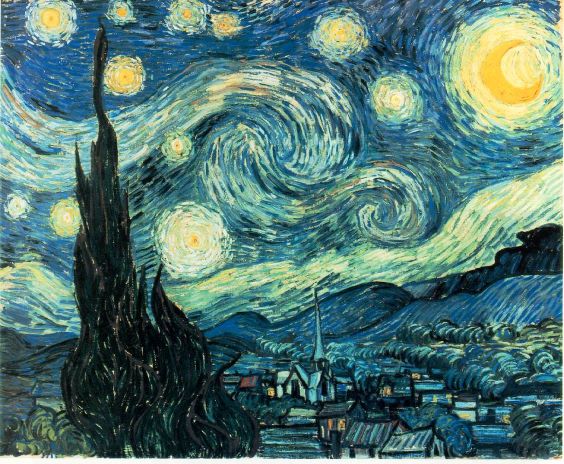 Speaking of a peaceful scene, I think what impresses me most is the way in which Van Gogh's inner turmoil and intensity transforms subjects which are, on closer inspection, totally ordinary or even peaceful. It is a titanic struggle between his inner demons and his longing for peace and health. When he and Gauguin headed south to Arles to escape the hubbub of Paris for the quiet of the countryside, Van Gogh painted his bedroom. Can you even realize how ordinary a room this is! It only transcends its ordinariness because it is filtered through his turmoil.
"Starry Night" is another example.  Our first impression is of a raging storm sweeping the landscape.  A second look shows us a scene of utter peace, somehow not at all peaceful.  I am reminded of the line "O little town of Bethlehem, how still we see thee lie"…and yet seen through Van Gogh's eyes nothing is lying peacefully.  It all comes from within.  There is a version of this subject in which there is a column of smoke from a chimney, rising straight up into the sky.  This scene is supposed to reflect the peace which Van Gogh was so desperately seeking, but instead displays his inner turmoil.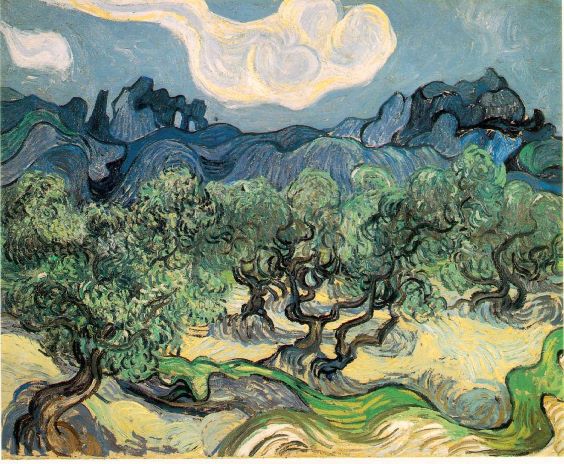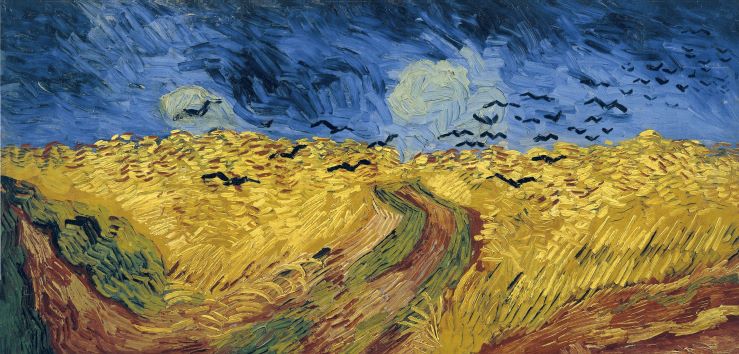 There is an interesting parallel in Van Gogh's late work with the landscapes of Cezanne, though with a predictably different effect.  Cezanne, in "House of the Hanged Man" turned a path into a barrier, to prevent the illusion of deep space.  In these two late works, Van Gogh also turns paths into barriers, but the effect is expressive and psychological.  The fact that you cannot enter the olive grove is traumatic in the extreme, for Van Gogh and for the viewer.  This is even more clear in the "Wheatfield" with its multiple paths and no way in.  These are for Van Gogh the paths to health, and by now he knows they are out of reach.
---
---