6. Have Box, will Travel
Posted in:
Really getting out there
One of my favorite things is to travel overseas with my paintbox in checked luggage, rent a car for the week, and plan a B&B vacation that hits the best painting spots. Of course, that is complicated by fitting in my wife's agenda as well. Since she is the planner in this family, there is no way she will miss out on her stuff, and she is gracious about fitting in my artistic needs. We have worked out a protocol: I can call my first painting stop anytime I see a "must paint" place;, the second stop must give Chase either walking or shopping opportunities, and the third (if it happens) needs to have no impact on her plans for the next hour. It helps that I can generally produce a "finished" oil sketch in 45 minutes.
We always rent a small sedan. The French Easel goes in the back (the packframe doesn't make the plane trip) along with the unused panels. The back dash is the resting place for my most recent (wettest) paintings. When we are staying more than one night in the same B&B, I will bring all the completed work in to set against the walls of the room for quicker drying. I also like to see them lined up together. My brushes get washed with soap once at the end of the day; they will be unusable for a few hours after washing.
Ireland with its wonderful and varied landscape, and its engaging street scenes, will be my standard for green, at least until I make it to New Zealand. Probably my most memorable moment was painting on the edge on a drop into the sea, in a stiff wind, looking at the famous Cliffs of Mohr. These are even better known today as the "Cliffs of Insanity" from "The Princess Bride".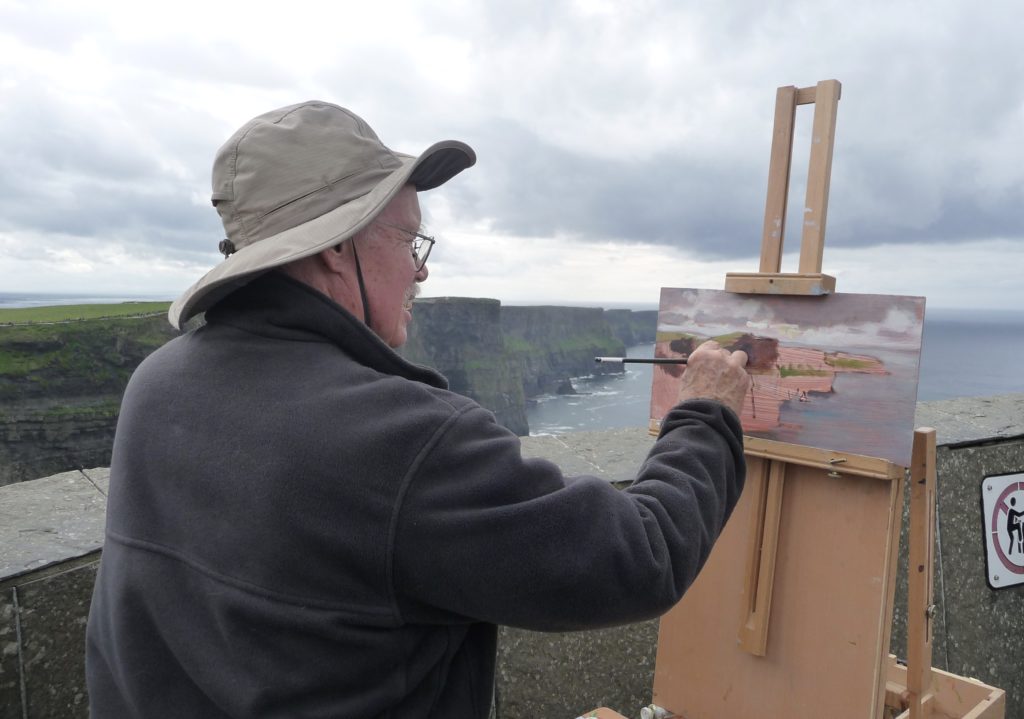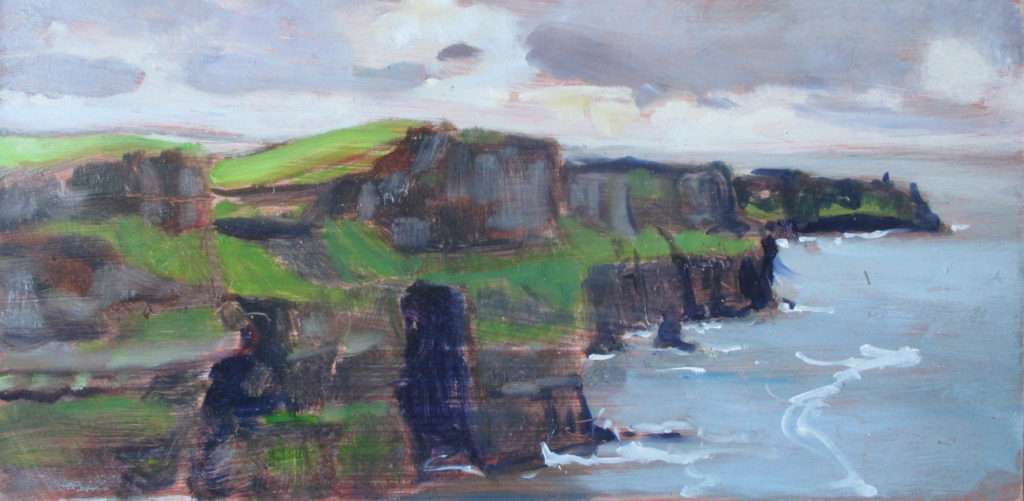 Of course, if we are travelling domestically in our own car, the packframe comes along too. This is the case for our annual trips to Seal Cove, Mt. Desert Island, Maine. I use the packframe to hike down to rocky beach from the house, perhaps ¼ mile. With the packframe I can go into spots in Acadia National Park, and then hike in from the parking lot. One of my favorites is Ship Harbor (about a mile hike in) with its beautiful pink granite shoreline.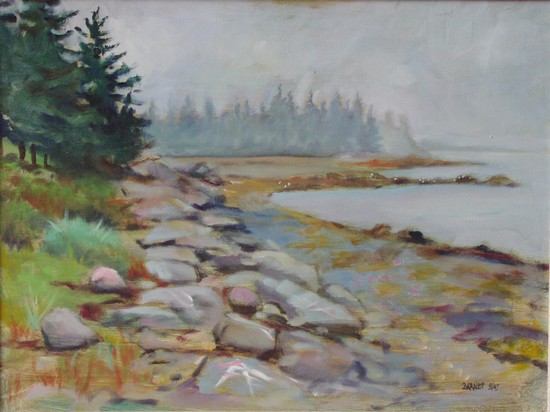 My favorite trips for painting from nature have been to Southern Portugal and Spain, to the Canadian Rockies, to the national parks in Southern Utah, and to Ireland. In Portugal, totally by chance, we stayed in the Algarve a stone's throw from the "Playa da Rochas", a fantastic beach with fabulous sandstone monoliths. The only thing that could compete were the wonderful medieval streets of the medieval town of Evora. We even got over to North Africa for a couple of days.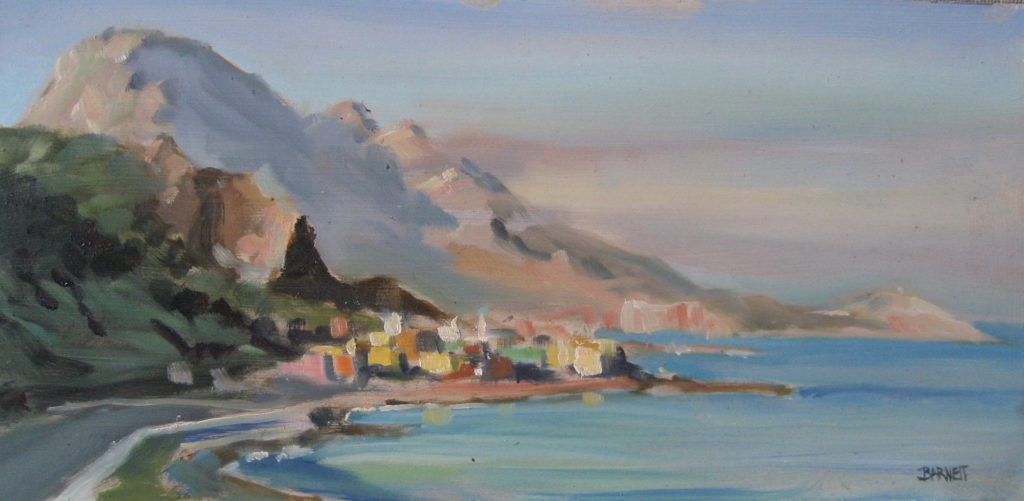 The Canadian Rockies were equally spectacular. The glaciers, though perhaps in their swan song, were an eerie presence everywhere. My favorite color may be the inimitable pale blue-green of a glacier-fed lake.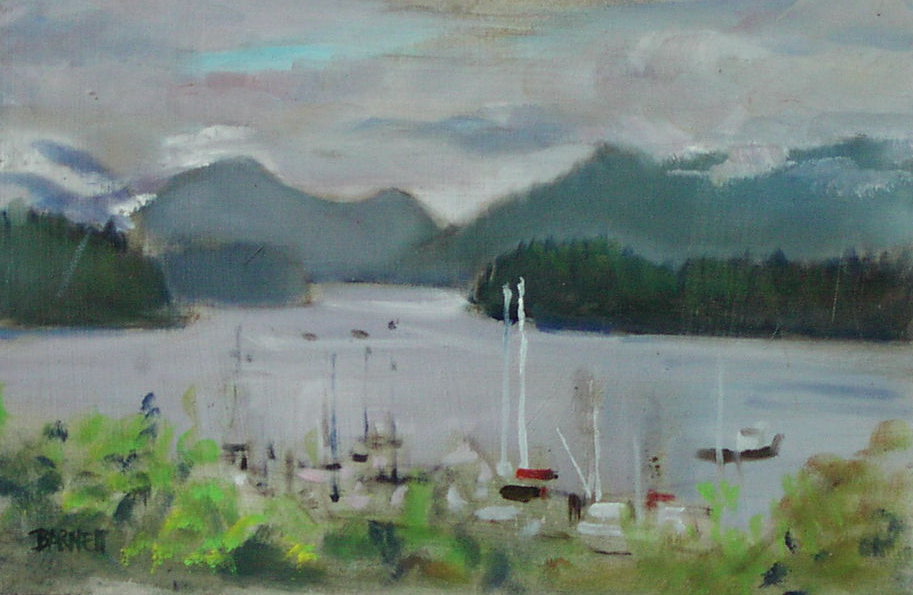 I have never found as many fantastic rocks to explore within a day's drive as are to be found in the national parks in Southern Utah. Zion, Bryce Canyon, Arches, each with rock formations identifiable as belonging to that park and none other. The colors of the sandstone alone overwhelmed the senses.
Chase and I have taken tours where I was confined to pencil sketching by the limitations of the tour, one to Prague, Budapest and Vienna, and another to the Galapagos and Peru. Galapagos and Peru were a wonderful combination, two tours to totally different environments. And clearly it would have been impossible to see what we saw without benefit of a planned tour.
---
---