A Feather in your Cap
Presentation of a new MAC Theater Award
Thursday October 27 was a banner day for the Monson Arts Council, and for the revival of theater in Monson.  This was opening night for the production of "Steel Magnolias", the first theatrical production presented by the council in eight years.  It was the first use of Memorial Hall for theater in even longer, following the devastating tornado which forced it to close for safety upgrades.  And, not least, it was the inaugural presentation of a new theater award, to be given each year to a local personage who has made substantial contributions to theater in Monson.
It is called the "Feather in your Cap" award, named after the first theatrical production which the MAC put on, some 42 years ago.  Fittingly, the first award was given to Phyllis Hull, a founding member of the council, who wrote and produced her play, and initiated a long run of theatrical productions by the MAC.  The audience for this opening night was greeted with an impressive display of posters from the MAC archives, bringing the history alive.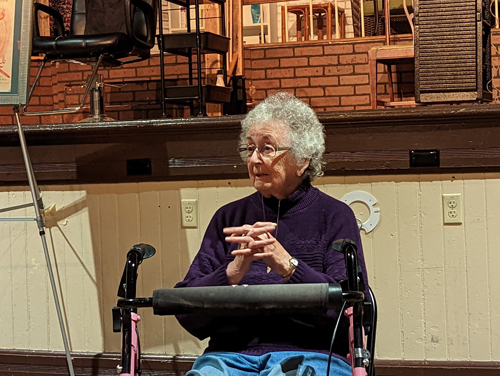 The award was presented by Peter Barnett, president of the MAC, and also a stage hand for the production. The award was in the form of a certificate honoring Phyllis and her contributions, signed by the president; she also received a bouquet of flowers. The award was received enthusiastically by the first night audience, which gave Phyllis a much deserved round of applause.
The audience was equally receptive to the performance which followed, demonstrating their appreciation throughout. It was a wonderful performance, worthy of such a stellar occasion. It was indeed a feather in our cap as well!
---
---