8. Framing your Subject
Choosing a Picture from the Endless Panorama of Nature
Once you are faced with nature head on, literally your first decision is what piece of it you wish to include in your work. This can be as easy as focusing on the point of interest and grabbing a little of what is around it, or as difficult as working out a successful and balanced composition in your head and then crystallizing it. In any case, there will be a decision on how much to include. Furthermore you are choosing a format, horizontal or vertical, and if you brought multiple shapes of panel with you, the decision as to which fits your subject best. The piece of the world you choose should always create a successful composition within the frame.
Show a lot or show a little? This will depend on your overall goal for the picture: The relative importance and concentration of the point of interest the importance of the sky as an element, and perhaps most important, the elements in the scene which frame it naturally. Early landscape painters in the Classic tradition would always find (or create) side screens to "contain the view" and not let it escape from the sides. I call this "framing within the frame". It is still a useful technique, but not a rule: where Claude Lorrain employs two side screens, Constable 200 years later is using one, almost centered. If (as is traditional) the side screens are dark, they will draw the viewer into the pictured space, allowing the spirit to expand into the distant light.
The big revolution in framing the picture space came with the advent of the camera, and an awareness of Japanese prints. Unless the photographer is pre-arranging the background of his shot, the edges of the photo will be arbitrarily cut off by the field of the lens. This created really "accidental framing", with its inclusion of partial objects, things half seen. It was Degas who first made use of this "Slice of Life" technique in his works, with results quite unlike anything done before outside of Japanese prints.
Framing decisions will run the gamut between panoramic views and close-ups. Close up views of the world can be seen as "found still lives", whether accidentally creating a harmonious group, or the work of human design. When faced with derelict trucks or boulders, I will often zoom in on the subject, needing only to decide how much "ambience" I want to include. For me these two groups of objects have a character and a voice which is almost human.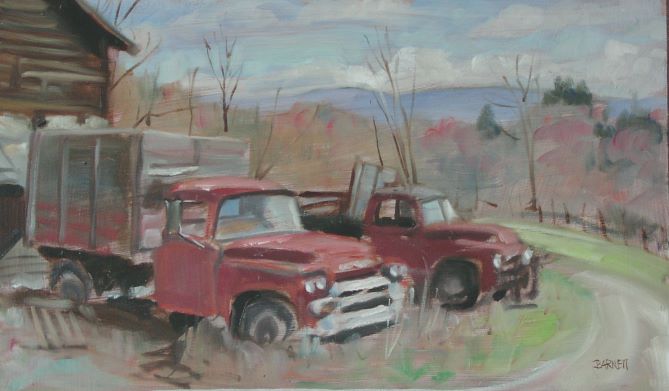 If you are ambitious to create a really successful composition when working from nature, It is important to know how well the "slice" you are taking will compose. One technique you can use to aid in this is to frame your scene with your fingers. You can easily create a frame with the pointer and middle figures o both hands. Spread those fingers to create two right angles, the bring them together to create a flexible quadrilateral which you can hold up against the view you are planning to paint. By bringing it closer to or farther from your eye, you can enlarge of shrink the field of vision being framed. I no longer need this crutch; my eye can easily imagine the limits of the virtual frame.
Beyond this, what makes a composition work is the same in a plein air landscape as it is in any two-dimensional art work. The surface has to be controlled from edge to edge, each visual mass must be balanced by others in its gravitational field. But this is really more than you need to concern yourself with if you are starting to work from nature for the first time. Success can be defined much more modestly.
---
---